Process production system
Pipe manufacturing by Roll forming process
 We would manufacture pipes from sheet of the stainless steel plate in the first step.
 And next step, various kind of heat exchangers, supply and exhaust pipes, and other pipe application products are manufactured with a manufactured pipe.
 So, we can offer a good price and guarantee a quick delivery date for the customer by doing our process production system.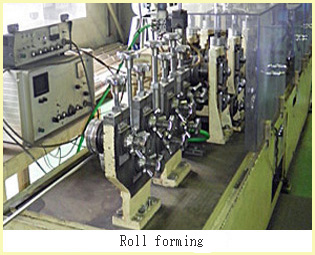 Bulge forming
 We have technological know-how of the bulge-forming using special rubber for a long time.
 Our production method merit can make various shape by a little investment.